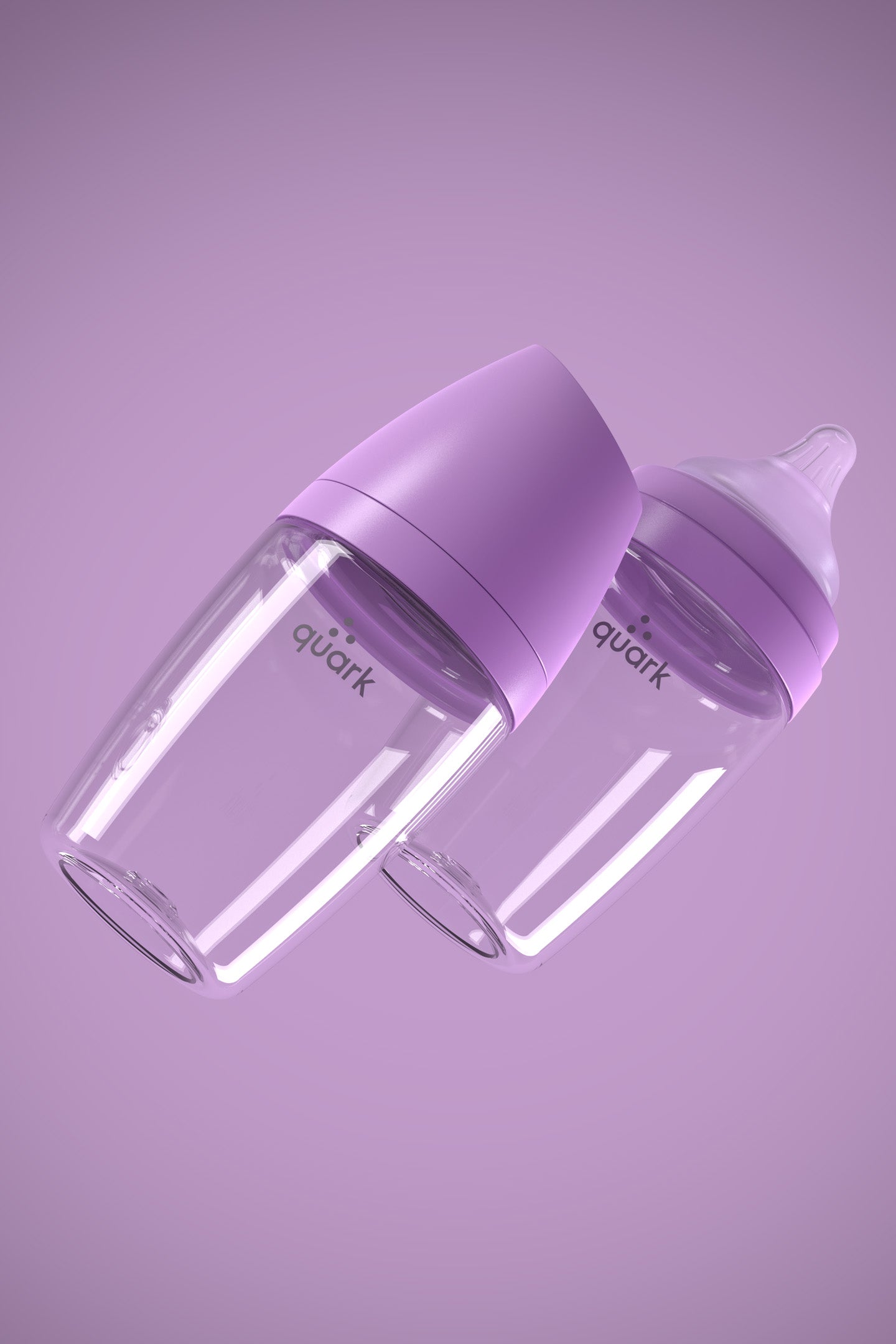 BuubiBottle Mini Hybrid Feeding Bottle
We've created the best bottles for breastfed babies. Made from a revolutionary material created specifically for infant feeding, BuubiBottle Mini features the clarity and safety of glass but is lightweight and durable with no risk of cracking or breakage. With its compact size, BuubiBottle Mini is perfect for on-the-go feeding, easily fitting into your purse or diaper bag.
150ml | 5oz

Anti-colic nipple

Wide neck design

Third-party lab tested

Safe for all methods of sterilization
RealFeel nipples are precision engineered to match your baby's oral anatomy, flexing and reacting like a real breast to promote a perfect latch. They feature anatomically accurate curvature and two distinct texture zones for the lips and tongue to simulate the textural differences between the nipple and areola. They're also designed with variable thickness to accurately replicate the difference in compression resistance your baby expects to feel in different areas of the breast while they nurse. The flexible tip reacts naturally to your baby's technique, while the thick base mimics the feel of the breast's fatty tissue.

You won't find a more realistic and comfortable baby bottle nipple. But don't take our word for it. Just ask your baby.
Designed to make switching between breast and bottle as easy as pie.
RealFeel bottle nipples provide a seamless feeding experience for your baby, no matter how they nurse. Carefully engineered with different texture zones and thicknesses to emulate the feel of a breast, they feature an anti-collapse design and a flexible tip that reacts naturally to your baby's technique.

Nutrition is the cornerstone of their health and development, and every feeding journey is different. We understand that, as a parent, you want the best for your child, and that's why we put so much effort into making the best, most flexible bottle-feeding system available.
Quook
Flow Rate
Slow flow | 0 months+ (included)
Dimensions
11"H x 6"W x 13"D (28cm x 15cm x 33cm)
Materials
Bottle: Tritan EX501
Nipple: Platinum Cured LSR Silicone
Cap + Collar: Food Grade Polypropylene

Free from
BPA, BPS, PVC, phthalates, microplastics, estrogenic activity, lead, latex, other toxins
The perfect latch
RealFeel nipples are precision engineered to match baby's oral anatomy, flexing and reacting like a real breast for a perfect latch every time.
Over 95% acceptance rate
In an independent study, over 95% of babies accepted RealFeel nipples immediately thanks to our unique, breast-like design and material composition.
Feels just like mom
RealFeel nipples feature two distinct texture zones for the lips and tongue, anatomically accurate curvature, and variable thickness from tip to base, promoting baby's natural technique.
We hate cleaning.
That's why BuubiBottle Mini features a wide mouth opening, and no extra valves, stems, rings, or other random parts to clean.
The

safest

plastic ever made
Specially designed for infant care, 100% baby-safe Tritan® features the clarity and safety of glass
real

feel
The most breast-like nipple ever imagined.
No, really. Just ask your baby.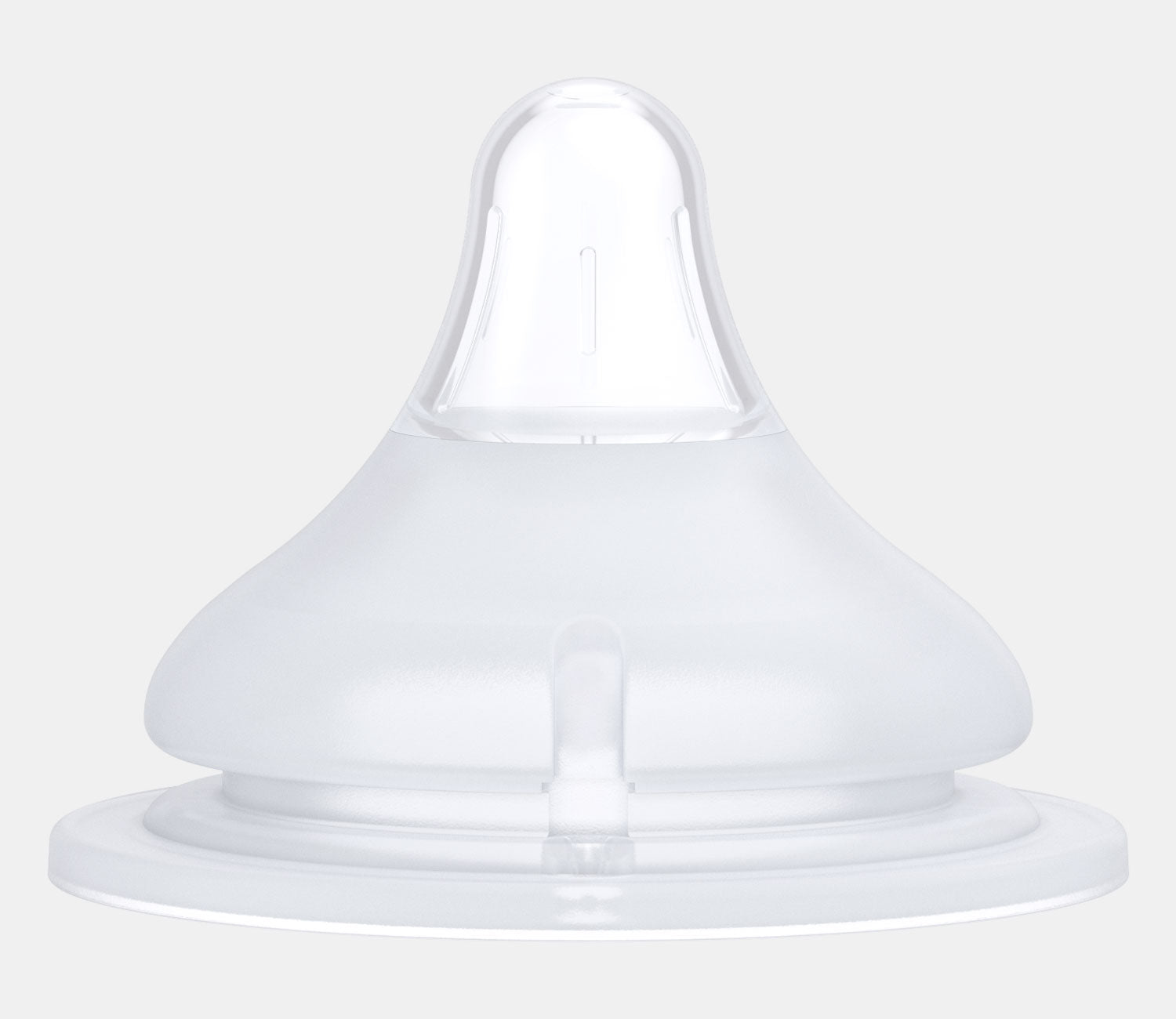 Anti-colic valve
Reduces colic and fussiness by allowing air into the bottle to prevent vacuum build up and vents it towards the back of the bottle
Dual zone texture
A smooth tip and soft, textured base mimic the transition between the nipple and the breast
Structural ridges
Structural ridges line the interior surfaces of the nipple to eliminate collapse for uninterrupted feeding
Variable thickness
The walls of the nipple are tapered, with a thin, flexible tip and thick, soft base, providing ideal compression and promoting baby's natural technique
Anatomically accurate curvature
RealFeel nipples are precision engineered for anatomical accuracy to increase acceptance rates and minimize nipple confusion for combination feeders
95%
Acceptance rate
RealFeel nipples are specially designed to emulate the firmness and texture of a real breast. With two distinct, separate finishes for the tongue and lips, over 95% of babies accept the nipple immediately.
4
Available flow rates
RealFeel nipples come in 4 flow rates to suit any age, developmental stage, or preference. Available in Slow flow (0+ months), Medium flow (3+ months), Fast flow (6,+ months), and Flex flow (9+ months)
Your baby deserves the best
BuubiBottle Hybrid Feeding Bottles are offered with an industry first baby-safe guarantee, offering access to all testing and certification documents from internationally recognized third-party laboratories.
This product is rated 5.0 of 5.0 stars.
It has received 1 review.
FAQ
Here's a list of the most common questions we get about the BuubiBottle Hybrid Feeding system. Need something else? Click the button below to visit the support center.
Visit the support center
What is the best way to clean my bottles?
How do I know what nipple size I need?
Can I convert BuubiBottle Mini into a toddler cup?