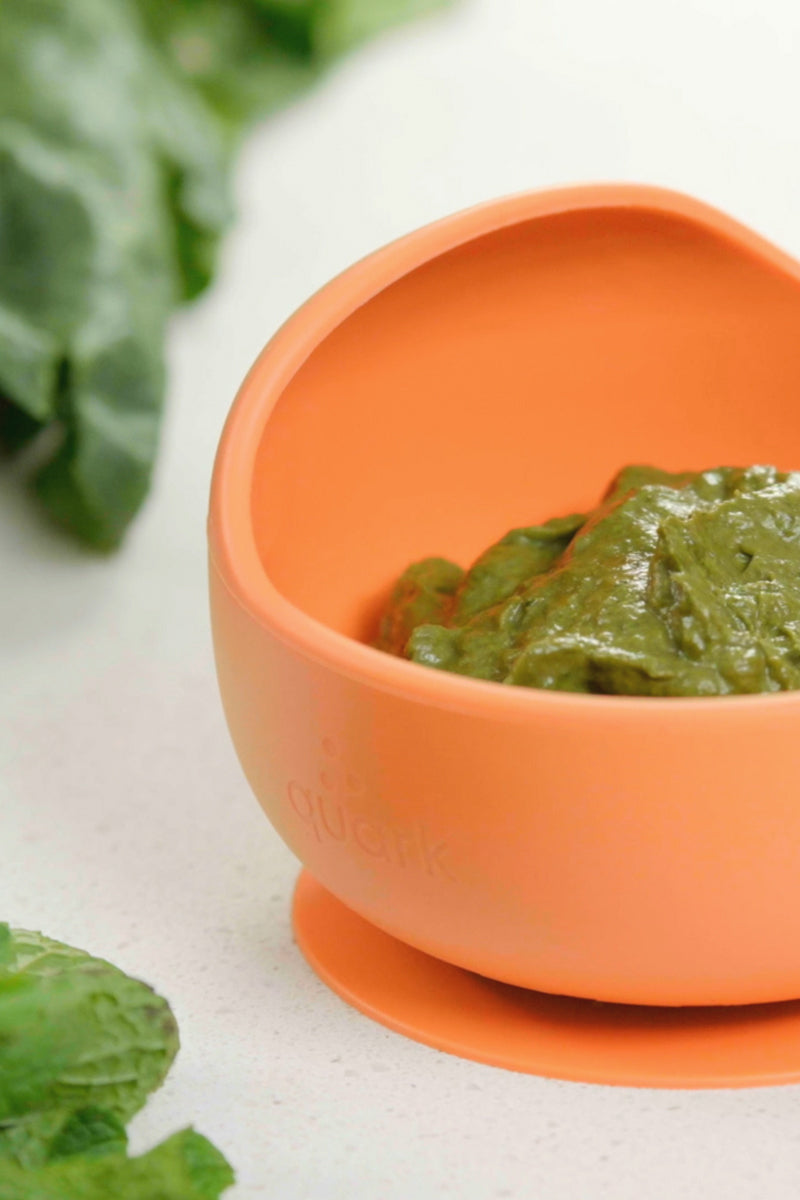 Feedi Silicone Dining Set
The essential 5-piece silicone feeding set that makes mealtime with your little one simple and seamless.
Be a mealtime champion with our premium silicone dining set, designed to handle everything you have to throw at it (and then some). Made with durability in mind, this silicone infant feeding set is safe for the dishwasher and microwave.
Durable, easy-clean silicone bib
Suction grip bowl with spill guard
Suction grip plate with three compartments
Soft silicone fork and spoon
Be a mealtime hero with our convenient set of everyday feeding essentials.
This baby silicone feeding set features a suction bowl and plate designed with efficient-grip bottoms to handle the chaos of your spill-prone littles. The bib has multiple fasteners to both lock it on tight for avid pullers and adjust as your child grows. The bowl also features a spill guard lip, designed to help self-feeders learn to scoop without spilling, while the gum-friendly silicone utensil set lets baby feel like they're at the big kid table.
Includes
Suction Grip Plate | Suction Grip Bowl | Catch Pocket Bib | Gum-Friendly Utensil Set
Dimensions
11"H x 6"W x 13"D (28cm x 15cm x 33cm)
Materials
100% Platinum-Cured Silicone
Free from
Bisphenols (BPA, BPS, BPF, BPAF), ortho-phthalates (DHCA, DHCP), dietary microplastics, estrogenic and androgenic activity, PVC, lead, latex, other toxins
Feed your kids, not your floor.
Suction grip tableware designed to stick, and stay stuck.
Catch pocket bib
Highly adjustable bib with large stay-open catch pocket is flexible for maximum comfort.
Gum-friendly utensils
Flexible utensil set constructed from 100% silicone is safe for little teeth and gums.
Suction grip divided plate
Extra thick silicone plate features suction bottom and three deep compartments for easy scooping
Spill guard bowl
Suction bottom and an innovative raised lip designed to help kids learn to scoop without spilling
This product is rated 4.7 of 5.0 stars.
It has received 90 reviews.
FAQ
Here's a list of the most common questions we get about the Feedi 5 Piece Dining Set. Need something else? Click the button below to visit the support center.
Visit the support center
What does the Feedi set include?
How does Feedi help with baby-led weaning?
Are the materials used in Feedi safe for babies?
Is Feedi available in other colours?