Quook Baby Food Maker, Bottle Warmer & Sterilizer
The Quook all-in-one baby food processor is the most intelligent baby food maker on the market. The 5-in-1 design features an integrated bottle warmer and built-in steam sterilizer to help you save time on cooking, cleaning and preparation.
With our easy-to-use, easy-to-clean baby food processor and steamer, you can have a healthy, homemade meal for baby ready in just minutes.
Integrated bottle warmer
Steam sterilization mode
Auto + manual blending
Digital touch control panel

Space-saving design
Flexible cooking times
Removable blade assembly
Self-cleaning design
Created with state-of-the-art processes, this baby puree maker is going to be your new favorite kitchen tool. Plus, with its aesthetic, minimalist design, you won't mind having this baby food puree maker live on your kitchen counter even when you're not using it.
Make healthy, homemade baby food and baby purée for your little one in minutes with the Quook infant food processor.
Take control of your child's nutrition and make healthy baby food at home in minutes.
While other baby food makers may include multiple unwieldy parts, hard-to-clean crevices, and long prep times, the Quook Baby Food Processor is perfect for the mom or dad on-the-go. The sleek smart screen enables you to create the ideal meal for your baby, regardless of ingredients.
At Quark Baby, we know how busy parents are, which is why all of our baby products are easy-to-use and easy-to-clean. Just pop this baby food processor in the washing machine and walk away.
Whether you're looking to prep breakfast, lunch, or dinner, our baby food processor makes the process a breeze.
Quook
Functions
Steam Cook | Auto + Pulse Blend | Chop | Bottle Warming | Sterilization | Auto-Clean
Dimensions
11"H x 6"W x 13"D (28cm x 15cm x 33cm)
Materials
Blending Cup: Tritan
Steaming Basket: Food Grade Polypropylene
Blade: 316 Stainless Steel
Water Reservoir: 316 Stainless Steel
Exterior Housing: Shock-Resistant ABS
Gaskets + Seals: Platinum-Cured LSR Silicone
Free from
Bisphenols (BPA, BPS, BPF, BPAF), ortho-phthalates (DHCA, DHCP), dietary microplastics, estrogenic and androgenic activity, PVC, lead, latex, other toxins
Quook does the job for you by making preparation, cooking, and cleaning easier.
Make nutritious baby food
With the Quook all-in-one baby food maker, you can make healthier, homemade baby food from your own ingredients and lock in nutrients with safe and effective steam cooking.
Warm milk and formula
The wide mouth stainless steel water reservoir doubles as a bottle warmer, with a built-in bottle warming mode to safely and evenly warm breast milk or formula.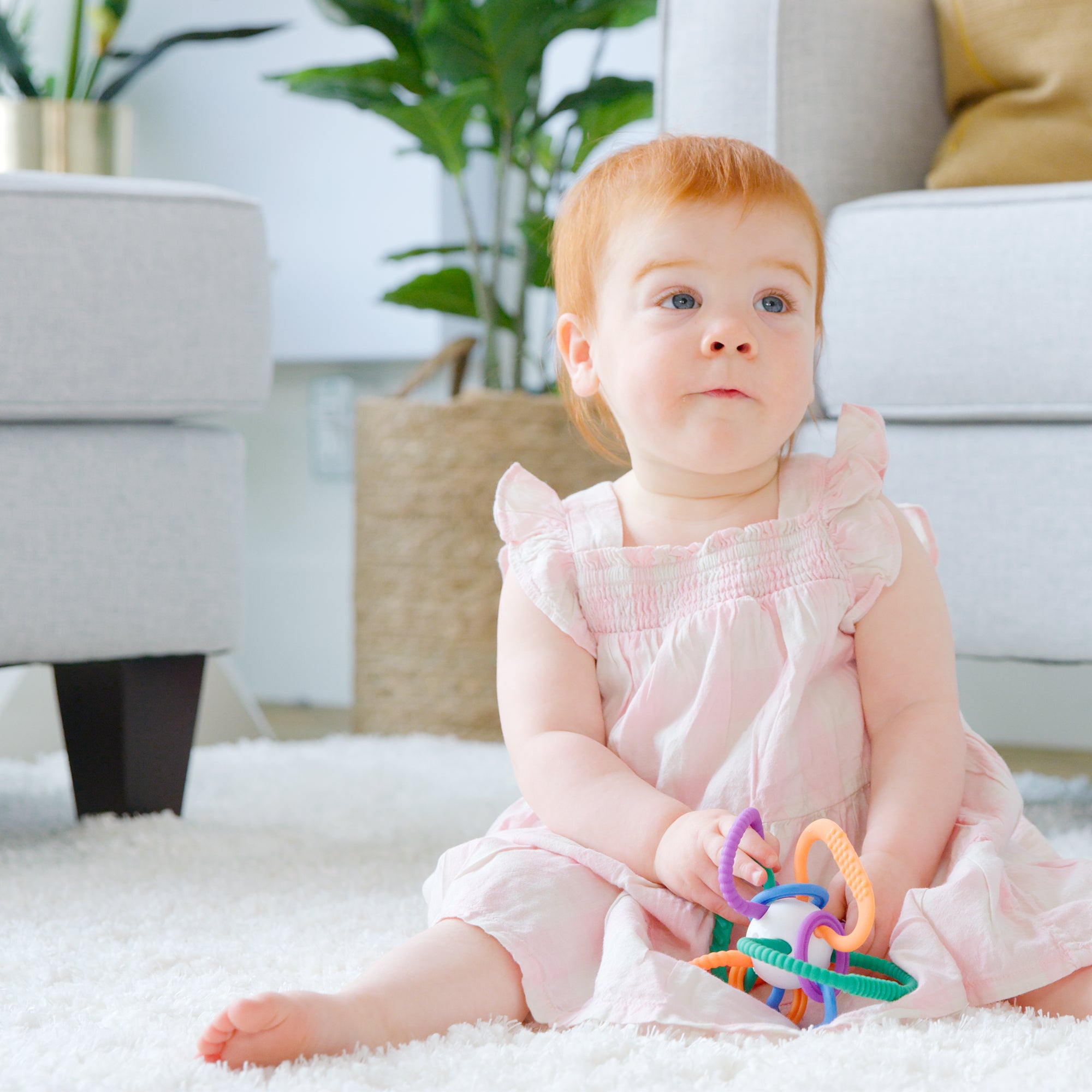 Sterilize small parts and toys
Quook also features a purpose-built steam sterilization mode, designed to keep your baby safe from germs and bacteria by sterilizing anything you can fit in the basket.
Do more with less.
We designed Quook to do as many things as humanly possible so you can save space and spend less money on baby stuff.
quook
Save time, space, and money while taking control of your child's nutrition.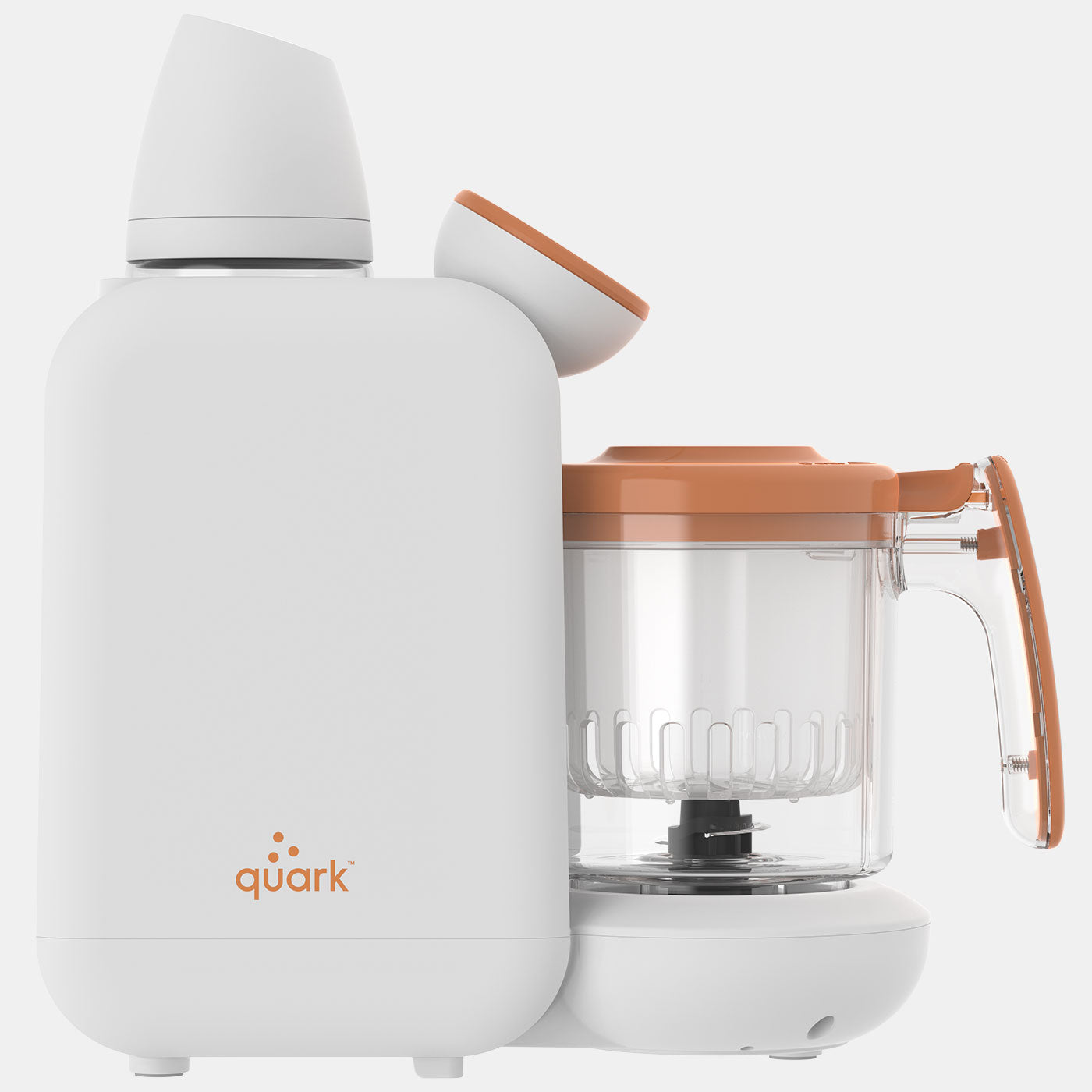 Digital touch pod display
Enjoy maximum flexibility no matter how you 'quook', with a digital display designed to put the power of intelligent baby food prep at your fingertips
Tritan blending cup
The blending cup features exceptional clarity and durability thanks to its BPA-free Tritan construction
Integrated bottle warmer
Save money and counter space while safely and evenly warming milk and formula with the integrated bottle warming function
Wide mouth reservoir
The 316 stainless steel reservoir is designed to be easier to clean and easier to fill
Compact design
Save crucial counter space with our compact baby food maker, designed to replace up to 4 countertop appliances and stay on your counter, taking up less space than your coffee maker
4
Appliances in one
Saves you space by replacing up to 4 countertop appliances including a steam cooker, blender, bottle warmer, and steam sterilizer
100%
Baby-safe construction
Quook is made from the highest quality materials, and all components are free from bisphenols (BPA, BPS, BPF, BPAF) and ortho-phthalates (DHCA, DHCP)
This product is rated 4.7 of 5.0 stars.
It has received 131 reviews.
FAQ
Here's a list of the most common questions we get about the Quook Baby Food Maker. Need something else? Click the button below to visit the support center.
Visit the support center
How do I clean my device?
What does it mean when the screen says 'E1'?
How do I clean the blade?
How do I use the sterilization cycle?
How do I use the 'auto-clean' function?