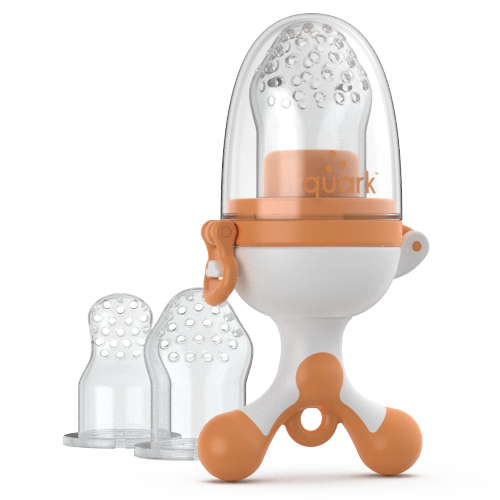 Feedi Silicone Dining Set
Product Support
Fruuti by Quark is a feeding device designed to introduce babies to new flavors and textures safely. It allows parents to offer fresh fruits or other soft foods in a controlled and mess-free manner.
Fruuti features a silicone pouch with small holes that allow babies to taste and explore the flavors of fruits or soft foods while preventing large chunks from entering their mouths. It allows you to twist the base to push food slowly through the silicone tip to ensure baby gets every last drop.
Absolutely! Designed with hygiene in mind, Fruuti can be easily cleaned and sanitized. It comes apart completely and is dishwasher-safe but can also be hand washed with warm soapy water.
Can Fruuti be used for things other than fruit?

Yes! While Fruuti is primarily designed for introducing fruits, it can also be used with other soft foods such as steamed vegetables, yogurts, or purees. It offers a versatile way to introduce different flavors and textures to babies. It can also be used with frozen fruit or breast milk to help soothe sore gums during teething.
Is Fruuti safe for babies?

You bet! Made from food-grade silicone that is free from BPA, phthalates, and other harmful substances, it is designed with safety features to eliminate choking hazards and provide a safe feeding experience for babies.
Our customer support is available Monday to Friday: 8am-8:30pm.
Didn't find what you were looking for?
Reach out to our expert support team and we'll get you what you need, right away.