Thiingy Sensory Teething Ball
Explore colours, textures and sound with this unique, fun-to-hold and safe-to-chew sensory teething toy. This ultimate baby teether is made from food-grade materials and designed to be your baby's new favourite "thingy".
Full spectrum sensory development

Chill to soothe sore gums

Safe for high temperature sterilization
Designed to be your baby's new favourite thiingy.
Your baby is exploring the world through their senses and developing their understanding every day. Sure, there are some tricky parts to navigate, and teething will lead to a few tears along the way, but at least there's a fun toy to soothe the pain.
Thiingy will quickly become your child's favourite plaything. With its soft pliable loops providing relief for the gums, the stunning colours instantly capturing the imagination, Thiingy's mesmerizing loop design holds their attention for hours on end.
Senses
Tactile | Visual | Auditory
Safe for
Dishwasher | Freezer | Sterilizer
Dimensions
11"H x 6"W x 13"D (28cm x 15cm x 33cm)
Materials
Hub: Food Grade Polypropylene
Loops: Platinum-Cured LSR Silicone
Free from
Bisphenols (BPA, BPS, BPF, BPAF), ortho-phthalates (DHCA, DHCP), PVC, lead, latex, other toxins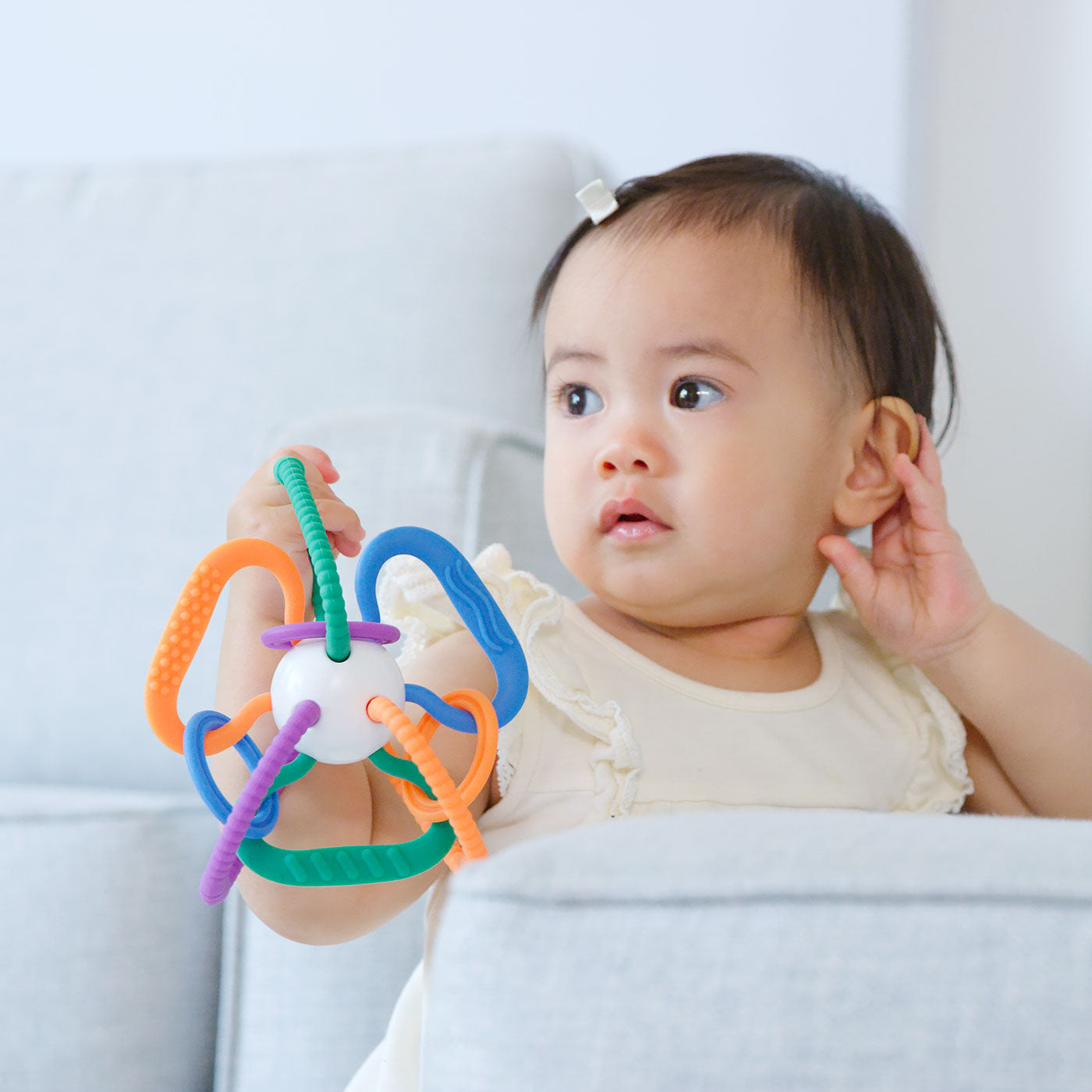 Sensory development gold
Thiingy combines colorful silicone loops, textured surfaces, and a gentle rattle to engage and stimulate a baby's senses, promoting sensory exploration and development.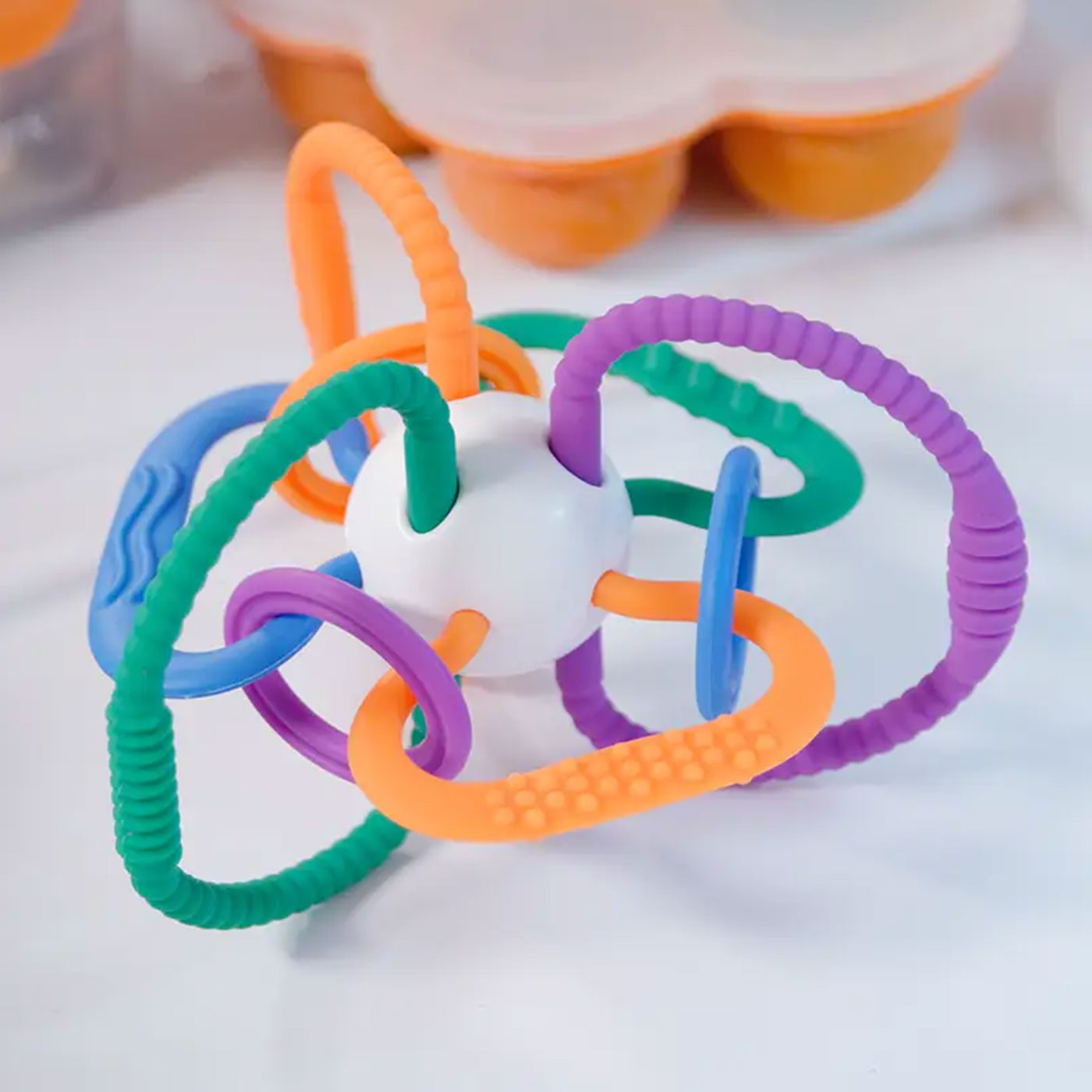 Great for teething babies
When chilled in the freezer, this versatile toy provides soothing relief to teething babies, thanks to its uniquely textured silicone loops and long-lasting cooling sensation.
Easy to clean and sterilize
Designed for convenience, Thiingy is dishwasher-safe and can withstand high-temperature sterilization methods, ensuring a hygienic and safe play experience for your little one.
Baby's new favourite 'thiingy'
Seriously. They'll never put it down.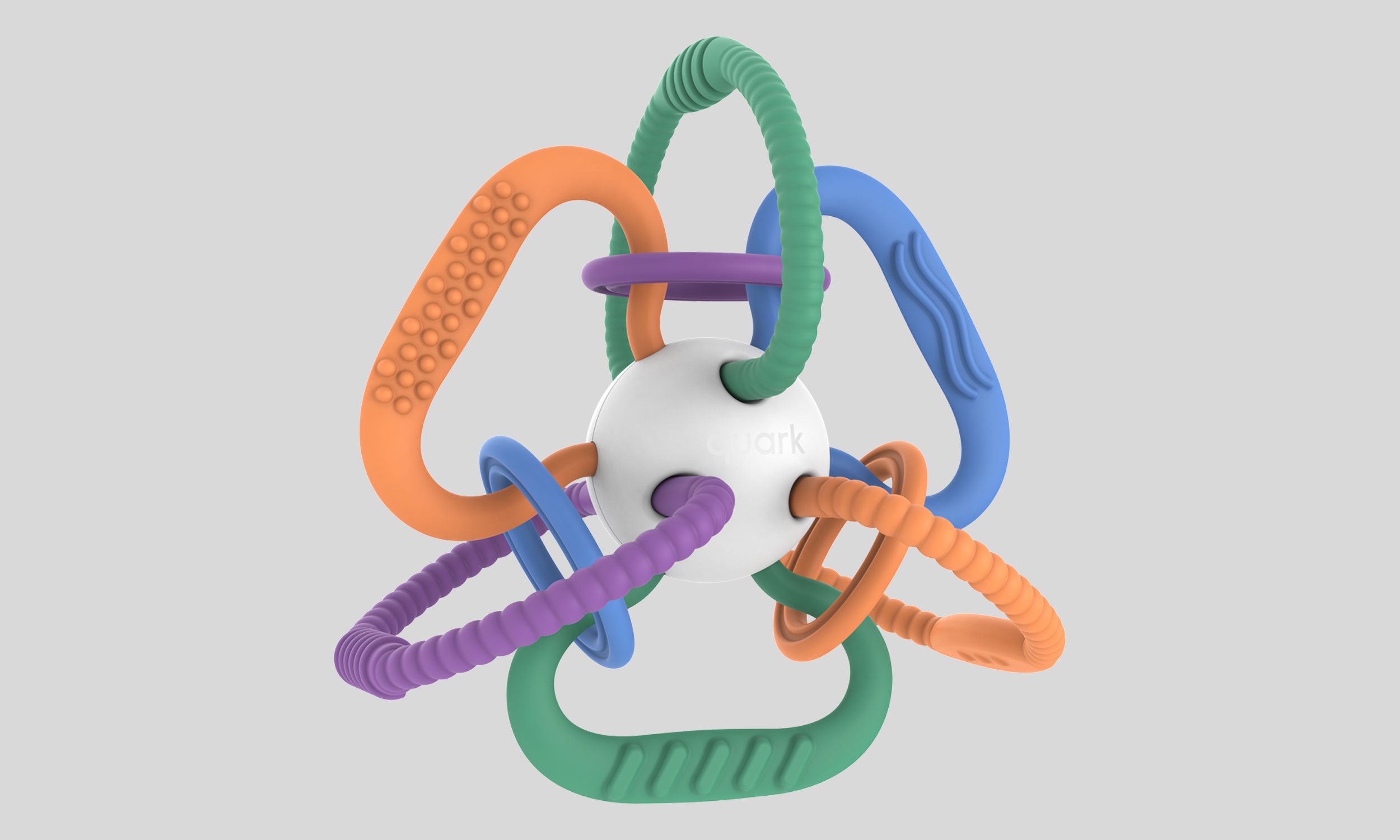 Unique textures
Each loop features a unique texture designed to stimulate your baby's sense of touch and help soothe teething pain
Integrated soft rattle
Inside the 'hub' you'll find a soft rattle that will help pique your baby's interest, exercising their auditory senses
Vibrant colors
Thiingy's loops feature a rich tapestry of colors, grabbing your baby's attention and stimulating their visual senses
Platinum-cured LSR silicone
The loops are constructed from the highest quality silicone available, because your baby deserves the best
This product has no reviews yet.
FAQ
Here's a list of the most common questions we get about the Thiingy Sensory Teething Ball. Need something else? Click the button below to visit the support center.
Visit the help center
Is the toy safe for babies to chew on?
How do I clean the toy after use?
Can I put it in the freezer for teething relief?
Is the toy suitable for all ages?
Can it be sterilized using boiling water or steam sterilizers?